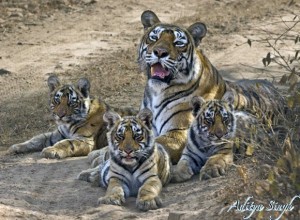 Recent reports have come from India where wildlife tourism could potentially be banned in India's core critical tiger habitats. Wildlife activists, conservationists, tourism providers and travellers are all concerned about India's future. This write-up has been waiting to be posted for a long time and nothing worse to come around a time when wildlife tourism in India's tiger reserves face a bleak future. Many questions relating to wildlife conservation, tourism, community involvement and the role of authorities that play to govern, take India's natural heritage to greater heights.
So why 'Cats in the Cradle'
When a child is born, a cradle acts as a protection for comfort, surrounded by love, care and nurturing where, a parent guides the child to grow up, to face the harsh realities of life. 'Cats in the Cradle' has been taken from a heart wrenching song written by Harry Chapin that describes a tale of a father and his new born son who cannot spend time together and it serves as a warning to put one's career before family. It sums the father's busy lifestyle with no time to spend with his son – as life progresses, the son becomes just like the father, where he has no time for his old aged man. It is a change of roles from the father to the son and history repeats itself. I have used this song title as a metrephor for India's wildlife tourism activities in tiger reserves. With recent news from India and the problems facing Tiger Tourism in tiger reserves especially in the Indian state of Madhya Pradesh, I felt no better way to explain this write-up of  - Is India's cats in a safe cradle and will wildlife tourism be its silver spoon to protect it for years?
A background to Protected Area Regimes
National Parks, Protected Areas, Site of Special Scientific Interest (SSSI) or any wilderness notification's comes under a categorisation management governance or regime which operates / looks after the running of any wilderness world over depending on their land tenure rights of that area. This governance looks into control of conflicts, natural resource usage and impact analysis with mitigation processes. Be it an African park, South American or Asian, they all have to come under some regime of governance. I will not go into classification briefs but yes; there are three types of protected area regimes in place for managing wilderness:
Top to Down Regime: This management approach involves a command management wherein the management controls are strictly controlled by only the park authorities while the local communities have no direct control of power in administration, policies and management of the park. The government park officials order and people have to follow.
Co – management Regime: This is where the management, authorities and accountability are shared with various stakeholders. These stakeholders should be two or more which could involve local / indigenous community representatives, government authorities and agencies, not for profit charity organisations and private operators which have a vested interest in the sustainability of the area.
Community Owned Regime: Where all powers are in the hands of the community. In this management, the community undertakes all administrative decisions, control and policies. The park authorities and other stakeholders have no say in the decision-making.
India's role and its Protected Areas
In India, all protected areas, national parks, sanctuaries and tiger reserves come under the Ministry of Environment & Forest (MoEF) who act as a nodal agency in the administrative structure of the central government for the planning, promotion, co-ordination and overseeing the implementation of India's environmental / forestry policies and program. It is a Top – Down regime.
India is a country of 1.2 billion people most of which, a substantial population live in rural villages, small towns, around protected areas, national parks and the pressure to natural resources extraction and using forest produce is uncountable and heavy. In 2006, the Indian Parliament cleared The Forest Right Act and the President of India assented the bill, finally coming into force on 31st December 2006. Going according to the Ministry of Tribal Affairs and their official document – The Forest Right Act, 2006  "recognises and vest the forest rights and occupation in forest land in forest dwelling Schedule Tribes and other traditional forest dwellers who have been residing in such forests for generations but whose rights could not be recorded; to provide for a framework for recording the forest rights so vested and the nature of evidence required for such recognition and vesting in respect of forest land
WHEREAS the recognised rights of the forest dwelling Scheduled Tribes and other traditional forest dwellers include the responsibilities and authority for sustainable use, conservation of biodiversity and maintenance of ecological balance and thereby strengthening the conservation regime of the forests while ensuring livelihood and food security of the forest dwelling Scheduled Tribes and other traditional forest dwellers".
This led to a debate between the MoEF's take on India's Forest Right Act, which led to the creation of the critical wildlife / tiger habitat and notifications to all tiger reserves. MoEF's official guidelines looks into: "the aim of maintaining viable tiger population and other fauna / flora species to conserve biodiversity and life support ecological system in natural wilderness areas, following criteria's should be followed:
Delineation of critical tiger / wildlife habitat (inviolate space/habitat) required for the sustenance of the viable populations of tigers and other wild animals in tiger and protected areas vis – a – vis the Wildlife (Protection) Act. 1972, as amended in 2006, and the Schedule Tribes and Other Traditional Forest Dwellers (Recognition of Forest Rights) Act, 2006".
So where does this leave 'Tourism' and the Ministry
Nowhere – that's what has happened and is happening. The Ministry of Tourism (MoT) has 'No Remit' and it's all about the Ministry of Environment & Forest alongside the Ministry of Tribal Affairs and their remits. Daily running of tourism activities in Indian tiger reserves does not come under MoEF but under the MoT. Its like both ministries do not work together – 'One looks London – the Other Talks Tokyo' 
For many years wildlife tourism activities in India has started getting worldwide recognition. Every tourism season (which is mostly between October – April) a large inflow of tourist's visit 15 or more high profile tiger reserves in India, which gives a massive boost financially to the local economy. Be it, in a good or bad way – publicity, economic growth and sustainability are always good for tourism and to the final destination. Through years, the tourism activities occurring around these parks have been defined as 'Default Tourism' without any guidelines, standardisation or structure that have been set for all stakeholders to participate.
At the recent World Travel Market held at Excel (London), there were massive hoardings / advertisements of 'Incredible India' with the showcase of Wildlife Tourism and Tiger as their star attraction.
No mention of what the future holds for Wildlife Tourism in India and maybe with the recent petition filed in the courts and banning of Tiger Tourism in Madhya Pradesh Tiger Parks, this may just be the last year for advertising the famous cat or are the ministry official's unaware of this situation? Being a very specialised area of tourism focus, Wildlife Tourism has never been regularised causing massive impacts to many wildlife destinations and has led people alienating, feeling left out and wanting the closure of the tiger tourism activities everywhere.
If Tourism is banned from Core Critical Tiger Habitats
As the winter tourist rush kicks off this year in central India's tiger parks, a petition filed by Mr. Ajay Dubey of Bhopal based local NGO demanding a complete ban of any tiger tourism in the Indian state of Madhya Pradesh's tiger reserves and its critical tiger habitats. His plea asks for ''Protection of the Tiger is paramount. Human activities should be confined to the buffer zones in a control manner''. In retaliation to this plea – The Travel Operators for Tigers India Wildlife Association (TOFT), an international recognised campaign and Indian charity organisation with it's consortium of worldwide wilderness travel industry members focusing on tiger tourism in India raised press conference in New Delhi recently that banning of tourism in these national parks will have major catastrophic impacts to the future of these destination. They demanded for a regularised system, which keeps tourism structured from its present state. A workable solution should be in place, which benefits all stakeholders. Many tourism industry and local people are shocked with the behaviour of the Ministry of Environment & Forest. One operator when spoke too at this years World Travel Market said, "They, the MoEF cannot dictate terms as national parks are defined places for education and recreational use. The people working in the ministries are working for the citizens of the country, we pay taxes and they get paid. They just cannot ban tourism in these parks as they do not own it."
Many conservationists, activists and various other industry leaders are in favour of having tourism in Tiger Reserves, they feel it supports, builds the local economy. It generates employment and yes if this ban comes through – India's wildlife tourism future will be bleak with various impacts in place and no solutions ahead for people to progress forward.
Future to India's Wildlife Tourism as its Silver Spoon
By putting a ban on tourism activities in Tiger reserves and leaving them to the buffer areas of park – there will be NO monitoring, NO awareness, NO transparency and the pressures of co-existence between human and animal in the buffer areas will have a massive impact on the future of Wildlife Tourism. It still will not change the current situation, with massive overcrowding, disturbances and no guidelines in place. Taking case studies from around the world, Wildlife Tourism has been seen and has been made a beneficial tool for wildlife conservation and for local communities. Can India use it too? Many are not sure with the current structure but yes; one thing positive is that people need to come together to save the remaining species that India has in the wild.
They need to start supporting various ministries involved. Be it MoEF, The Ministry of Tribal Affairs and Ministry of Tourism. Many countries around the world have successful conservation lessons, which India can use to structure a right path ahead. Countries like Rwanda (Tourism & Conservation Department) and Namibia (Ministry of Environment & Tourism) that have their sectors together to see a sustainable progress of their species and tourism activities in the area.
Is India calling for a change in its Protected Area Regimes? A thought for India's ministries and the need to have a new parallel division of administration – maybe A Wildlife Tourism Authority of India that compiles both the MoT and MoEF together to generate a regulatory structure, which is followed by all stakeholders. A specialised unit that gives a co-management governance including stakeholders in policy decisions and where there is:
Accountability / Transparency
Protection / Law Enforcement & Training
Regulating Tourism Activities, its Stakeholders Responsibilities & Participation
Local Community Involvement & Enhancements
Education, Research & Awareness
Sustainability & Development
If tourism activities do end up in buffer areas – India should start re-thinking of making their national animal from the 'Tiger' to the 'Cow'. That's what is currently seen in most buffer areas in many tiger reserves grazing the last leaf left and wildlife tourism will certainly become a distant memory.
———————
Note: The court hearing for the Ban on Tiger Tourism activities for MP Parks has been postponed to 1st of December 2011 at the Supreme Court of India.
Comments