Maldives
Map of the Indian sub-continent where Maldives is marked in the green colour.

Maldives is correctly described as a country where the sands are white as the smiles of the locals, where fish swim happily in the warm waters of the Indian Ocean, where the weather is a dream, and the deep rays of the sun wait to engulf you their arms.
The Maldives, though isolated in location, is easily accessible from anywhere in South-East Asia, the Middle-East and Europe.  Maldives lies in two rows of atolls in the Indian Ocean, just across the equator. The country is made up of 1,190 coral islands formed around 26 natural ring-like atolls, spread over 90,000 square kilometers. These atolls structures are formed upon a sharp ridge rising from the ocean, making way for their secluded uniqueness.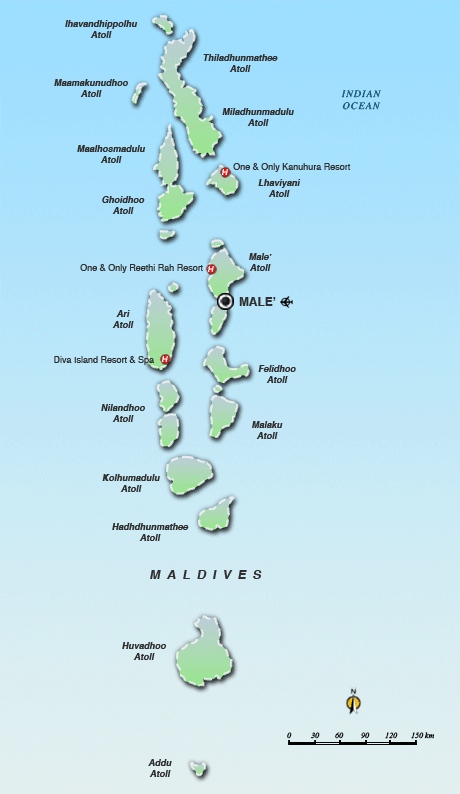 Each atoll in the Maldives is made of a coral reef encircling a lagoon, with deep channels dividing the reef ring. A string of islands take their places among this atoll ring; each island has its own reef encircling the island lagoon. The reefs of the islands, alive with countless types of underwater creatures and vibrant corals, protect the islands from wind and wave action of the surrounding vast oceans. This unique structure of reefs and channels makes navigation almost impossible for the passer-by without sufficient information about these waters.
Ninety-nine percent of the Maldives is made up of sea. The people of the islands are widely dispersed across the atolls, with about 200 inhabited islands. About 90 islands are developed as tourist resort and the rest are uninhabited or used for agriculture and other livelihood purposes.
For Maldivians, who love a good story, it is somehow fitting that the early history of the country is enshrined in myth and legend. There is the story of the Rannamaari, a tale about a sea monster than demands a virgin sacrifice every full moon, until a brave man from Morocco, Mr Abdul Barakaath-Ul Barbary decides to confront the monster and prohibit him from coming into the Maldives. There is the story of Bodu Thakurufaanu, renowned for its length, who saved the Maldives from Portuguese Invaders. These stories, while very much anecdotal, are based on the real facts that form the history of the country. Written accounts portray a Maldives whose people have traveled far and wide, adventurers whose geographical isolation had not limited the boundaries of their world. Maldives today remains very much like it had then – small, but not lacking; isolated, but not invisible.
Details to follow soon !!
TRAVEL GUIDES